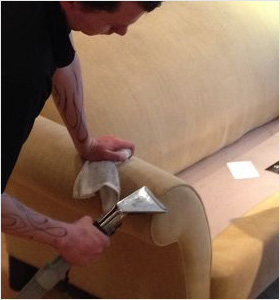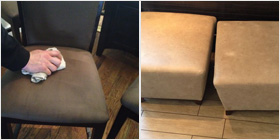 Best Professional Upholstery Cleaning Services in Fort Worth, TX
In most homes and businesses, investing in beautiful and quality furniture remains a top priority. But that's not enough. You need to preserve your chairs, sofas, and other upholstered furnishings. Luckily, with upholstery cleaning, you'll extend the furniture life span and keep your space in good condition.
Your upholstery fabrics get exposed to dirt, dust, pet fur, food particles, and other unsightly blemishes that require regular cleaning to avoid breeding bacteria and fungi that can threaten your health. While you might get tempted for DIY cleaning, hiring a professional upholstery cleaning service in Fort Worth, TX, is the best option.
As the most preferred local upholstery cleaning business in Fort Worth, Texas, Sunbird Carpet Cleaning Fort Worth guarantees quality cleaning with 100% dirt, grime, and stains removal for a fresh and clean indoor space.
How Sunbird Carpet Cleaning Fort Worth Cleans Your Upholstery: Best Eco-Friendly Methods
With everybody in the Fort Worth area being environmentally cautious, Eco-friendly upholstery cleaning methods are now taking center stage. With certified natural and non-toxic cleaning products, you'll be happy to get value for your money. Here's our environmentally friendly upholstery cleaning services technique:
Inspection
Our upholstery cleaning Fort Worth specialists will first pre-inspect the upholstery to know the nature of fabric fiber and plan for cleaning. The good thing is we test the fabric dyes to avoid altering the color. We'll handle all kinds of fabrics without disorienting their shape or quality. As a client, you have an opportunity to know your upholstery situation at this stage.
Some of these upholstery fabrics we clean include:
All leather types (natural, faux, etc.)
Linen
Microfiber
Nylon
Wool
Cotton blends
Acrylic
And more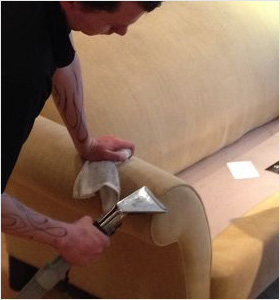 Vacuuming
As a thorough upholstery cleaner Fort Worth, we vacuum clean your upholstery on all the sides, from edges to corners, for best results irrespective of the situation. Thanks to our variety of advanced vacuum upholstery cleaning machines. It's easy to choose what suits a particular task or fabric and adjust the machine's suction levels and attachments accordingly.
Deep Cleaning
In addition to vacuum cleaning, deep upholstery cleaning with cold, warm, or hot water get to the core of the dirt, allowing for detailed cleaning even at the hidden spots. But first, we start with pre-conditioning the upholstery to loosen the dirty fabric and then extensively cleaning to extract the stains. Our safe upholstery treatment removes all the dirt and bacteria with ease, enhancing the furniture's look.
Steam Cleaning - Hot Water Extraction
Cleaning upholstery with very hot water that's scent-free allows stains to dissolve fast. Steam heat is among the best Eco-friendly extractors when eradicating colonies of germs, pathogens, and allergens without leaving residues. We understand that some fabrics don't require steam cleaning, and we'll advise the best option for you.
Foam Cleaning
Are you looking for commercial upholstery cleaning services? Our foam cleaning service embraces natural foaming agents that safely encapsulate the dust, making it easy to clean. Whether it's home or industrial dust, our natural solutions guarantee faster and safe cleaning without foam build-up on your upholstery.
Grooming and Deodorizing
Once we've completed the cleaning, grooming, sanitizing, and deodorizing then follows to revitalize your furniture with a fresh look and healthy smell. Just allow your upholstery to dry completely. The drying duration depends on the fabric, but that shouldn't worry you because our products and low moisture cleaning approach ease the drying time.
Why Choose Sunbird Carpet Cleaning Fort Worth?
Ready to brighten your dining and armrest chairs, fabric couches, fabric wall panels, and leather furniture with the best upholstery cleaning Fort Worth, TX? Our technicians have detailed knowledge of how to handle the task. Here's why you can't go wrong with us:
Trained, licensed, and experienced staff and cleaners.
Cleaning approach that saves you time and money.
Ready to use upholstery a few hours after cleaning.
Customized cleaning based on what you need.
Call Us Now For a Comprehensive Upholstery Cleaning
Don't compromise the health of your residential or commercial premise occupants anymore when you can easily access the best upholstery cleaning services right away. Despite your upholstery cleaning needs, Sunbird Carpet Cleaning Fort Worth will deliver way beyond your expectations. Talk to us now at 817-886-3744 for general upholstery cleaning inquiries and cost estimation. We're just a call away!